Avenair Mtn Cabin Rentals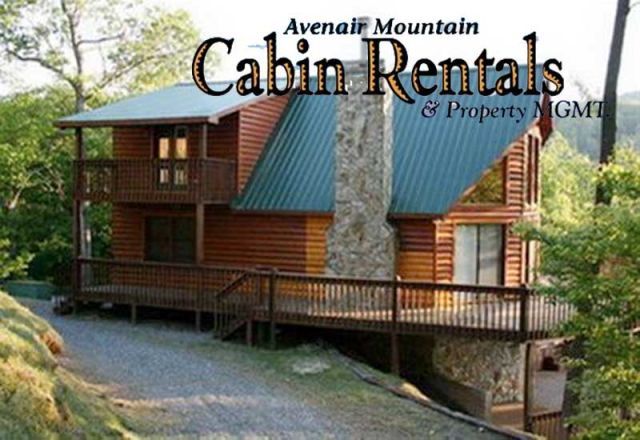 Get ready to HIDEOUT in the Blue Ridge North Georgia Mountains from the fast pace of life and ESCAPE from the stress. RETREAT to our PEACEFUL mountain cabins rentals. Be ready for the Blue Ridge Mountains to tug at your heart! You will want to return, and when you do you will just have to stay longer at our cabin rentals in Georgia. Find contentment in just sitting on the front porch rocking or swinging your cares away. We are unique in our Blue Ridge North Georgia cabin rentals, because we care. Our North Georgia cabins are all privately owned mountain cabins. Some of the mountain cabins have river access for fishing, some of the cabins are on creeks for relaxing to the sound of the rushing of water, and other cabins have GREAT North Georgia mountain views. Enjoy a spa or a fireplace for that romantic evening together with someone special. What a nice way to spend time with your family and friends. All cabins are beautifully decorated, well kept and clean. REST is assured here! Come join us in the beautiful Blue Ridge Mountains of North Georgia. GETAWAY and get back to nature. We offer some pet friendly and wheel chair accessible cabins.
All of our seasons are spectacular in the North Georgia mountains. You will want to rent a cabin and come for each of them. Our summers are mild in the mountains here in Blue Ridge. Spring is like a new start for us all. Come see the trees, flowers showing their faces in north Georgia and our clean mountain fresh air. In the Fall our trees become colors of splendor, colors that are unable to be put into words. Winter is a great time to come and rest! Bring the family for a Blue Ridge mountain Thanksgiving or Christmas.
Curl up by a fire and take in the wonders of our Blue Ridge Mountain views, you can see for miles. If you haven't seen snow in awhile, well we could just have one of crystal white Blue Ridge mountain snows. All of what we consider here to be God's country. How do I explain to you the showing of the wonder land that is here? It is unable to be put into words, come see for yourself.
In Our Blue Ridge North Georgia Vacation Area you will find the Quaint Town of Blue Ridge located in Fannin County,to be packed with great Smoky Mountain activites, premier Antique Shopping, Trout fishing, Ocoee Whitewater Rafting, Horseback Riding, Blue Ridge Scenic Train Ride. Country Cooking at it's Best.
We are 90 minutes from Atlanta, 90 minutes from Chattanooga, Tn where you can do a day trip to visit Ruby Falls. Enjoy the beautiful Ga mountains on a 90 minute trip to Helen Georgia check out a Winery, or dine at a River Resturant. Don't forget we are just 13 miles from Ellijay Georgia, Gilmer County where they hold the Apple Festivals. Come stay at Avenair's Mtn Cabins,in Blue Ridge, Georgia. Relax and enjoy our North Georgia Vacation Cabins with Creek, Mountain top views, River, Lake and Wooded Views, perfect for a Romantic Mountain getaway, with Hot Tubs, Fireplaces, some with Pool Tables, and we offer Pet Friendly Cabins Rentals. Our Backwoods Cabin Rentals are some of the Best kept secrets in the North Georgia Mountains.
See you soon,
Avenair
Phone: 706.632.0318
Website: http://www.avenairmtncabins.com